Gallery of Original Landscape and Mountain Art
Paintings of The Scottish Highlands, The Lake District and Snowdonia
Welcome to my Gallery of Original Landscape and Mountain Art
I am a self-taught artist, born and raised in the English Lake District, living and working in the village of Invermoriston in the Scottish Highlands.
My extensive portfolio of original landscape and mountain art embraces a broad range of subject material featuring principally the mountain landscapes of the The Scottish Highlands, Snowdonia and The Lake District and their related flora and fauna. My original paintings, in watercolours, acrylics and alkyd oils are offered for sale directly and securely through the on-line shopping facility on this website.
All my Original Paintings  are signed and supplied with bevelled mount embellished with a single 'v' groove. The finished product is then packed into a strong black archival quality presentation gift box making it the perfect gift and providing the recipient the option of framing the artwork in a moulding of their choice. My limited edition prints are signed and numbered, then they are despatched in a sturdy postal tube.
Fast and Friendly Service
I have been selling my original paintings since 2005 and they are sold exclusively through this website and my Etsy shop. Every order receives my personal attention from receipt to despatch, ensuring that every customer enjoys a first class product and a friendly and efficient service. I am happy to discuss customers' requirements or their concerns before placing an order.
My new Etsy store now sells my small original mountain landscape art and there is also a small selection of landscape fine art prints. I have a range of floral paintings that I have recently completed using Brusho – a medium new to me, and I must not forget my Highland Coo (cow) paintings too, these are painted with either oil paints or acrylics.
New Original Landscape and Mountain Art
My new oil painting of Ben Nevis and Nevis range from Bunarkaig.
On a cold late spring day after a fall of snow on the mountain tops, I drove to Gairlochy in the hope of clear mountain tops and the day dawned perfect. Waiting until the light improved on the North Face, I took loads of photographs. The painting was completed in my studio.
This painting is available as a  limited edition print at the moment. Click on the link to see more details. If you are interested in purchasing the original please contact me.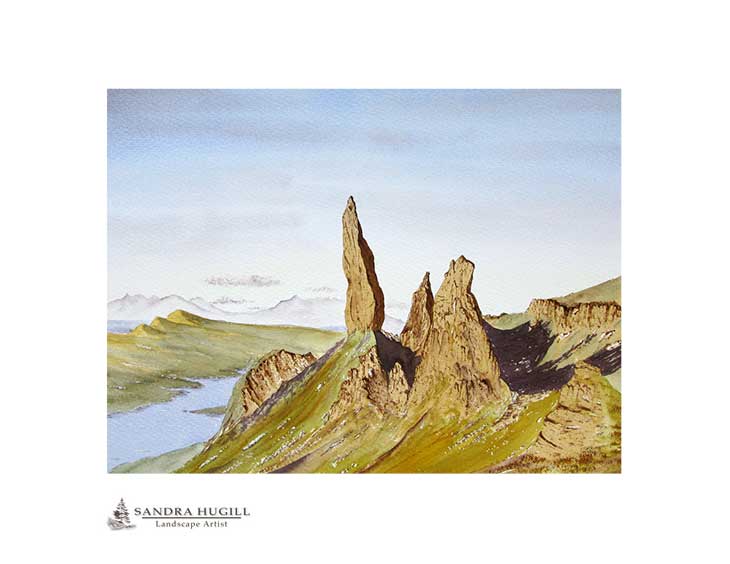 Now available are a small collection of limited edition prints of my most popular paintings. Currently available are those seen here of Old Man of Storr, Schiehallion and Blackrock Cottage.